Request a FREE In-Home Pet Stop® Consultation Today
At Pet Stop of Central Illinois nothing is more important to us than the safety and well-being of your pet.
Contact Us Today
---
Shop Our Pet Stop® Products
Dog Fencing Done Right
At Pet Stop of Central Illinois nothing is more important to us than the safety and well-being of your pet.
Pet Stop of Central Illinois is your local pet fence expert in Illinois, providing professional installations of Pet Stop® electronic underground dog fencing systems. We'll walk you through the entire process, from picking out which fencing layout best suits your property and needs, to training your pet to the fence. We want our customers to be experts, just like us!
Outdoor Systems
We provide installations of outdoor underground fencing system that will not only keep your pet safely contained, but can also keep your pet out of your garden, landscaping, pool or other off-limit zones.
Indoor Solutions
Pet Stop of Central Illinois brings the benefits of boundary setting indoors, too. Our technology can easily keep kitty off the kitchen counter, the dog out of the litter box or correct any other behavior issues you may be having.
GENTLESTEPS™
Dog Training
Perhaps the most important part of the electronic dog fence, the fence training makes sure your pet knows their boundaries. We use a low-stress, pet-friendly training technique called GentleSteps™. Pets learn faster and are much happier with GentleSteps™.
Learn More
Customer Reviews
"Caleb and the Pet Stop system are amazing! After several unanswered calls to other local fence companies, a neighbor gave me a lead to Caleb. He returned my phone inquiry the same day, and was here the next day to assess my needs and provide a quote. Within a week the system was installed with a minimum of disruption to my yard and a maximum of attention to my strange schedule. I hadn't been able to contain my hard-headed adult chocolate lab rescue in my existing chain link fenced back yard (she would alternate climbing over, digging under, or simply flying above it to get out). Caleb's patient training with Bella quickly showed her the boundaries of the back yard, and she can now even accompany me on trips to the non-chain link fenced front yard without bolting. My life, and certainly Bella's, has been greatly improved. Thank you, Pet Stop and especially thank you to Caleb. Great product, great customer service and a great guy to work with!"
Layouts
Below are our most popular underground pet fencing layouts, but we can customize the fence boundary layout if necessary – we can also make flower beds, pools, ponds (even streams, lakes and the ocean!) and other landscaping elements off-limits to your pets.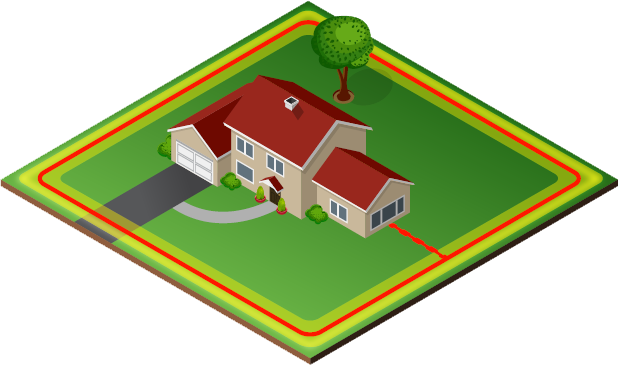 Full Perimeter Loop
Our most common layout installation is a Full Perimeter loop. This layout gives your pet free range to roam your entire yard but not leave it.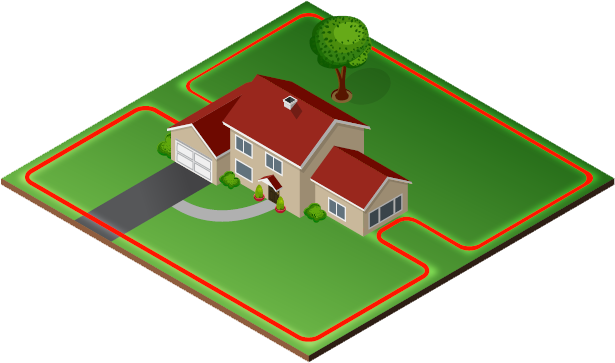 Figure 8
Also common is the Figure 8 layout. It's like the Full Perimeter loop, but with a pinch in the middle. This allows you to contain your dog in either the front yard or the back yard, it's up to you.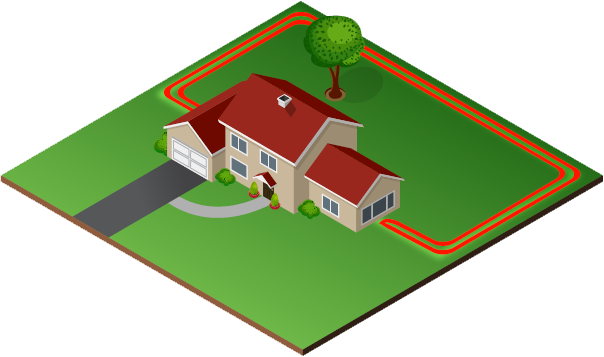 Double Loop
The Double Loop layout is used to contain only the front or back yard. It's generally only used when your property's geography won't allow for installation around the whole property.
Edge-To-Edge™
Small yards are no problem at all for Pet Stop® technology. Our boundary fences offer settings to create a one-sided signal zone around the perimeter wire in order to maximize the amount of yard your pet can enjoy.
Support
Pet Stop of Central Illinois is dedicated to providing you with ongoing outstanding customer support long after your initial pet fence system has been installed. If you have any questions, concerns, or require any maintenance or troubleshooting on your electronic pet fencing system, please contact us – we'd be happy to help in any way we can
Our Services Areas
Champaign County | Dewitt County | Ford County | Livingston County | Logan County | Macon County | Mclean County | Peoria County | Sangamon County | Tazewell County
Find your City or Zip Code below:


Schedule Your FREE Consultation Today
Pet Stop of Central Illinois